Basic Christianity is published
every other month.
Back Issues
Sept/Oct 2008
About Us
Editor:
Scott Gage
PO Box 3425
Fayetteville, AR 72702-3425
Voice & Fax: 479-521-6809
Email: LsgageI29@cs.com
March/April Issue 2017 - Volume 36 Number 2
Looking Unto Jesus: The Empty Tomb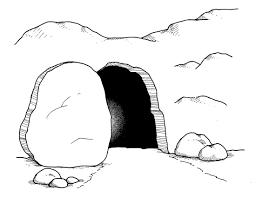 Hebrews 12:2, "Looking unto Jesus, the author and finisher of our faith, who for the joy that was set before him endured the cross, despising the shame, and is now set down at the right hand of the throne of God."
In the last installment of our series, we turned our gaze to the cross. We surveyed the wondrous cross on which the prince of glory died.
And if that would have been the end of the story of Jesus of Nazareth, then the story of this Galilean Carpenter would have been no different than the thousands of other people who were executed by Rome or some cult leader that was able to get some people to follow him. But the cross is not where the story of Jesus ends.
1st Corinthians 15:1-10, "Moreover, brethren, I declare to you the gospel which I preached to you, which also you received and in which you stand, by which also you are saved, if you hold fast that word which I preached to you—unless you believed in vain. For I delivered to you first of all that which I also received: that Christ died for our sins according to the Scriptures, and that He was buried, and that He rose again the third day according to the Scriptures, and that He was seen by Cephas, then by the twelve. After that He was seen by over five hundred brethren at once, of whom the greater part remain to the present, but some have fallen asleep. After that He was seen by James, then by all the apostles. Then last of all He was seen by me also, as by one born out of due time. For I am the least of the apostles, who am not worthy to be called an apostle, because I persecuted the church of God. But by the grace of God I am what I am…."
After Jesus dies on the cross, Joseph of Arimathea goes to Pilate and asks for the body of Jesus so that he could bury him. Joseph was apparently a somewhat wealthy man and a member of the Sanhedrin, who had come to believe in Jesus. He, along with Nicodemus (another member of the Sanhedrin), takes the body of Jesus and prepares it for burial. They cover the body with the traditional ointments and fragrances. They wrap it with linen. And late Friday afternoon, they placed the body in a new tomb in a garden. And then, a large stone was rolled in front of the door of the tomb.
(To read the rest of the issue, click on the current issue link on the left.)