January/February Issue 2010 - Volume 29 Number 1

The Devil

In

Disguise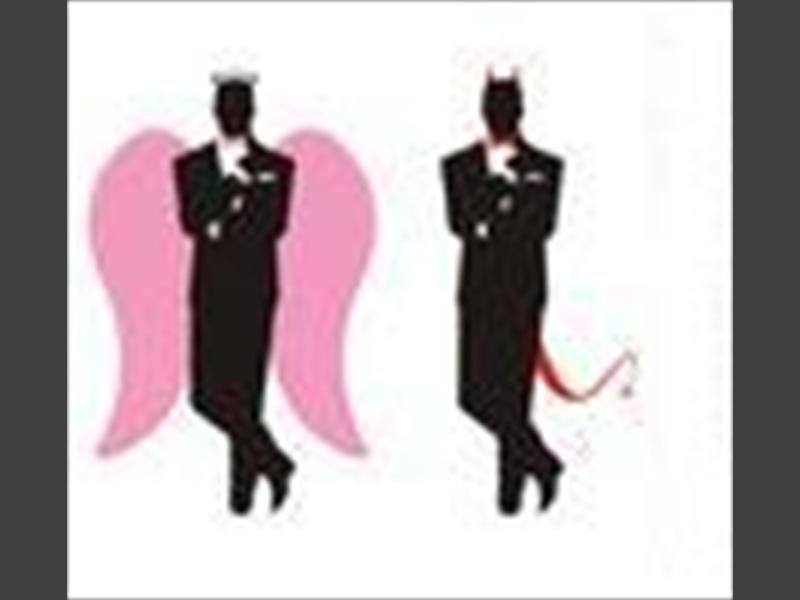 "And no wonder! For Satan himself transforms himself into an angel of light. Therefore it is no great thing if his ministers also transform themselves into ministers of righteousness, whose end will be according to their works." 2 Corinthians 11:14-15
In 1963 this Elvis Presley record lamented the scheming deceptions that a young lady played on a young man who was in love with her. The single debuted in the United Kingdom and some predicted an early demise for both the song and the artist. However, it went on to win a Gold Platter for sales in excess of 500,000 units. Here is the title and the lyrics:
(You're the) Devil in Disguise
You look like an angel
Walk like an angel
Talk like an angel
But I got wise
You're the devil in disguise
Oh yes you are
The devil in disguise

You fooled me with your kisses
You cheated and you schemed
Heaven knows how you lied to me
You're not the way you seemed

You look like an angel
Walk like an angel
Talk like an angel
But I got wise

You're the devil in disguise
Oh yes you are
The devil in disguise

I thought that I was in heaven
But I was sure surprised
Heaven help me, I didn't see
The devil in your eyes

You look like an angel
Walk like an angel
Talk like an angel

But I got wise
You're the devil in disguise
Oh yes you are
The devil in disguise

You're the devil in disguise
Oh yes you are
The devil in disguise
Oh yes you are
The devil in disguise
There can be no doubt that the devil is in the disguise business. He could never be as profitable as he is unless he was a master of deception. He is into more serious forms of deception than mere sleight of hand and breaking up romantic relationships. He wants to steal your soul.
Satan is in the business of trying to spoil God's work. In the Parable of the Soils Jesus says this about the wayside ground, "And these are the ones by the wayside where the word is sown. When they hear, Satan comes immediately and takes away the word that was sown in their hearts" (Mark 4:15). Satan doesn't waste any time. He is diligent and on the job. He knows if he can snatch the word from our hearts that the seed will never germinate and bear fruit. He does not want to see God's word planted in our hearts.
Satan delights in planting a different kind of seed in our hearts. He is a great instigator of evil in the world. In John 13:2 we read about some seed that Satan planted in the heart of Judas, "And supper being ended, the devil having already put it into the heart of Judas Iscariot, Simon's son, to betray him…." Satan planted the seed of betrayal in the heart of Judas, a man who had been entrusted with keeping the money bag for the disciples of the Lord. Judas proved to be dishonest not only with the money but also with the Lord Jesus. Satan deceived Judas. He wants to deceive us, too. He would love to fill our hearts with jealousy, hatred, pride and selfishness.
Satan even uses the scripture deceptively. He quoted Psalm 91:11-12 when he tempted Jesus in the wilderness. Some have pointed out that Satan misquoted this passage because he left part of it out (Matthew 4:6). Whether Satan left part of it out intentionally or not the fact is that he was using this passage deceptively in order to persuade Jesus to abandon the Father's will. Satan wanted Jesus to test the Father just as Israel had tested God in the wilderness. Jesus did not doubt the Father and He was not deceived.
An English Poet and Writer, Robert Southey (1774-1843) is credited with this quotation, "All deception in the course of life is indeed nothing else but a lie reduced to practice, and falsehood passing from words into things." The Bible tells us plainly that Satan is the father of lies (John 8:44). No wonder deception is one of his mainstays since deception is just a lie reduced to practice.
The wise man admonishes us in Proverbs 23:23, "Buy the truth, and do not sell it, also wisdom and instruction and understanding." When we love the truth and wisdom the deceptions of Satan will not be as alluring. A man standing in the shade of a tree is not tempted to buy an umbrella to keep the sun off of his head.
He may look like an angel. He may even walk and talk like an angel. But when we are wise we will recognize the devil in disguise.
...lsg
Fayetteville, Arkansas
The web site promised to match singles looking for a life mate with an eligible partner. What made the site especially appealing was that those listed were supposedly millionaires. Paul Krueger's name was listed along with the rest, and his information drew interest from several.
As various women got acquainted with Krueger, they learned that he was a recording company executive who had been nominated for a Grammy. He was in the process of starting up a company that would produce CDs, DVDs and other types of videos. To further prove his validity, he even displayed a stock report which documented the phenomenal success of his new venture. He made a convincing case, and 13 women invested over $100,000 in his company.
But Paul Krueger was not at all who these women thought he was. He is a gambling addict, and that's where all the funds went. He has no entertainment company, and he doesn't even have a home. That is, until yesterday. He now has a home in the Souderton, PA jail where he awaits trial.
The Internet has now been with us for several years, and we've found it to be a mighty useful tool. Whether we're trying to find the weather forecast for a distant city, make travel arrangements, or learn more about a recently diagnosed medical condition, there is a wealth of useful information right at our fingertips. Those who declared the Internet to be a passing fad have had to revise their predictions. It looks like the worldwide web is here to stay.
With this tool, however, come dangers. That's always been true with any tool. A sharp axe can fell a tree in minutes, but it can also mortally wound a person who uses it carelessly. One of the greatest dangers of the Internet is anonymity. The person with whom you're chatting or transacting business may not be who they portray themselves to be.
You've surely heard about two popular web sites, FaceBook and MySpace. The latter has been billed as "the largest social network in North America". It's hard to dispute that claim when there are, according to various sources, tens of millions of users on both of these sites. A "social network", of course, is a place for interaction. It's a place to make new friends and to meet interesting people. It's also a place where a 40-year-old man can pretend to be a 16-year-old girl and never be exposed.
There are good reasons to be concerned about such online predators. These social networking sites often display personal information, photos, and even addresses or phone numbers. A number of cases have been reported where unsuspecting teenagers are victimized by devious individuals. Deeply wounded young lives are left in the wake.
Two can play this game, however. Since November of 2004, NBC News' "Dateline NBC" has aired occasional episodes of "To Catch A Predator". In these scenarios, played out in different cities across the country, a reporter poses as a teenager on one of the popular networking sites. A suspected predator makes contact, a "relationship" is established online, and finally a personal meeting is set up. Local law enforcement personnel are then involved, and the predator is arrested at the meeting. The vulnerable teenage girl he thought he would meet turns out to be a burly police officer - with handcuffs!
Deception is one of the lower qualities of human nature. We resort to it when we hope to manipulate others, or to gain favors we could not otherwise gain. Those who have been victimized by deception understandably feel violated.
The techniques we've described aren't really new, and they certainly didn't originate with the Internet. They all date back to the earliest days of mankind. The epitome of deception and the master of lies is none other than Satan.
The first victims on earth were Adam and Eve. The first man and woman created by God, they were given a perfect home. The Garden of Eden was unspoiled, and would be the world's number one vacation getaway if it still remained. Paradise was lost, however, because Satan portrayed himself as someone other than who he really was.
In his encounter with Eve, Satan asked why they didn't eat fruit from the Tree of the Knowledge of Good and Evil. Eve responded that God had forbidden that fruit, to which Satan responded scoffingly. He assured her that eating the forbidden fruit would not bring death, but a status equal to God. It was only after Eve and Adam crossed God's boundary that they realized the dreadful mistake they had made. Satan had deceived them. (Read the account in Genesis 3.)
Jesus ripped the mask from Satan's scowling face: "You are of your father the devil, and the desires of your father you want to do. He was a murderer from the beginning, and does not stand in the truth, because there is no truth in him. When he speaks a lie, he speaks from his own resources, for he is a liar and the father of it" (John 8:44). Those are strong charges.
According to Jesus, then, Satan is both a liar and a murderer. Do we not hold special contempt for such individuals? Think of the drug dealer down on the street corner. How does he attract new business? He offers a free sample of something that will make a young person feel really good. Unbeknowst to them, however, this sample is often enough to addict them. They have to have that drug, and will do almost anything to get it. In the end, lives are ruined because someone told a lie. Often, those ruined lives end tragically.
Satan is the original seller of drugs. He peddles things that he promises will make us feel good, but later we learn how harmful they have been. James describes the cycle of sin in this way: "But each one is tempted when he is drawn away by his own desires and enticed. Then, when desire has conceived, it gives birth to sin; and sin, when it is full-grown, brings forth death" (James 1:14,15). Temptations come from Satan. Sin always leads to great harm.
But how can Satan continue to get away with his destructive actions? Why isn't he found on lists of people to beware? Again, it's based in deceit. Here's how Paul described it: "... For Satan himself transforms himself into an angel of light. Therefore it is no great thing if his ministers also transform themselves into ministers of righteousness, whose end will be according to their works" (2 Corinthians 11:14,15).
Are you on the lookout for Satan? Don't bother looking for the red guy with horns, a forked tail and a pitchfork. Instead, look for someone who has appeal, charisma and a dash of charm. Satan knows his best shot at wrecking your life is to promise you something wonderful. After you've taken the bait, you'll feel the hook that is lodged deep inside.
One reason we have the Bible is to help prevent this deception: "Lest Satan should take advantage of us; for we are not ignorant of his devices" (2 Corinthians 2:11). Read the Bible. Know your enemy. Learn that he is not who you think he is.
...Timothy D. Hall
Lightgrams 2008
Hurts, Habits and Hang Ups
I recently noticed our title on a reader board as I drove along the highway. It started me to thinking. What do these have to do with our relationship with God? The answer that struck me the hardest is that all are connected to sin. Sin is really our only problem. If we solve the problem of sin the other problems we face either vanish or the solution is apparent and the resolution is within reach.
Our hurts are a result of unloving behavior. Even our physical problems came as a result of sin. Remember: "All have sinned and fallen short of the Glory of God."
Habits are a little different. There are "good" habits and "bad" habits. Brushing your teeth every day is probably a good habit. However the habits that give us trouble are the ones that demand our attention. The Apostle Paul lists some of them (Galatians 5:19-21 NIV), "The acts of the sinful nature are obvious: sexual immorality, impurity and debauchery; idolatry and witchcraft; hatred, discord, jealousy, fits of rage, selfish ambition, dissensions, factions and envy; drunkenness, orgies, and the like. I warn you, as I did before, that those who live like this will not inherit the kingdom of God." These show up in our daily behavior and destroy our health, our relationships and our self esteem. Most of all they destroy our fellowship with God. They are sin.
Hang ups are those attitudes and beliefs that interfere with our ability to act rationally. They inhibit our choice to do the things that would be good for us. They cause us to prejudge actions and people barricading our emotions and crippling our decisions. We end up isolated from the facts and reality. This too is sin.
Sounds rather depressing does it not? Good news! God provides a remedy. He sent Jesus. Jesus gave up his life to provide relief from all sin. "For the wages of sin is death, but the gift of God is eternal life in Christ Jesus our Lord" (Romans 6:23 NIV). He calls us to believe in Jesus as the son of God, to believe in his death, burial and resurrection. He calls us to turn our hearts and behaviors away from sin, to proclaim Jesus as "Son of God" and "Savior." And He calls us to submit in obedience by being immersed in water to "wash away your sins." He then calls us to live by his power in victory over our hurts, habits, and hang ups. "Therefore, since we are surrounded by such a great cloud of witnesses, let us throw off everything that hinders and the sin that so easily entangles, and let us run with perseverance the race marked out for us. Let us fix our eyes on Jesus, the author and perfecter of our faith, who for the joy set before him endured the cross, scorning its shame, and sat down at the right hand of the throne of God} Consider him who endured such opposition from sinful men, so that you will not grow weary and lose heart" (Hebrews 12:1-3 NIV).
He promises relief and encouragement. "Come to me, all you who are weary and burdened, and I will give you rest. Take my yoke upon you and learn from me, for I am gentle and humble in heart, and you will find rest for your souls. For my yoke is easy and my burden is light" (Matthew 11:28-30 NIV).
He promises life eternal and happiness forever. "…Now the dwelling of God is with men, and he will live with them. They will be his people, and God himself will be with them and be their God. He will wipe every tear from their eyes. There will be no more death or mourning or crying or pain, for the old order of things has passed away…I am making everything new." Then he said, "Write this down, for these words are trustworthy and true" (Revelation 21:3-5 NIV).
God calls us to learn together and encourage one another. Please come join us. Be a part of God's family.
...Duane Ash, Ashland, Oregon
An Influential Storyteller
A few years after I was born, my Dad met a stranger who was new to our small Texas town. From the beginning, Dad was fascinated with this enchanting newcomer and soon invited him to live with our family. The stranger was quickly accepted and was around from then on. As I grew up, I never questioned his place in my family. In my young mind, he had a special niche. My parents were complementary instructors: Mom taught me good from evil, and Dad taught me to obey. But the stranger...he was our storyteller. He would keep us spellbound for hours on end with adventures, mysteries and comedies.
If I wanted to know anything about politics, history or science, he always knew the answers about the past, understood the present and even seemed able to predict the future! He took my family to the first major league ball game. He made me laugh, and he made me cry. The stranger never stopped talking, but Dad didn't seem to mind. Sometimes Mom would get up quietly, while the rest of us were shushing each other to listen to what he had to say, and she would go to the kitchen for peace and quiet. (I wonder now if she ever prayed for the stranger to leave.) Dad ruled our household with certain moral convictions, but the stranger never felt obligated to honor them. Profanity, for example, was not allowed in our home... Not from us, our friends or any visitors. Our longtime visitor, however, got away with four-letter words that burned my ears and made my dad squirm and my mother blush. My Dad didn't permit the liberal use of alcohol. But the stranger encouraged us to try it on a regular basis. He made cigarettes look cool, cigars manly and pipes distinguished. He talked freely (much too freely!) about sex. His comments were sometimes blatant, sometimes suggestive, and generally embarrassing. I now know that my early concepts about relationships were influenced strongly by the stranger. Time after time, he opposed the values of my parents, yet he was seldom rebuked...and NEVER asked to leave.
More than fifty years have passed since the stranger moved in with our family. He has blended right in and is not nearly as fascinating as he was at first. Still, if you could walk into my parents' den today, you would still find him sitting over in his corner, waiting for someone to listen to him talk and watch him draw his pictures.
His name? We just call him "TV."
…Via email
A VISIT WITH OL' MAN LISTER
"PAID WHAT YOU'RE WORTH"
Ol' man Lister and I were down at Phil's gas station, drinking
grape Nehi and solving the problems of the world, when Ed Bicker walked up. Now Ed is a big strapping young man with lots of muscle but very little motivation. He hasn't worked since he mixed concrete for the monument down at the city park; he quit that job when he found out they wouldn't let him scrawl his initials into the concrete.
Ed spoke to us for just a minute then found Phil and asked him if he could use some help around the station. Now Phil is pretty self-sufficient, but he usually will give odd jobs to the locals who need a little work, so he told Ed that if he really wanted to work, the back of the building needed to be scraped and painted.
Ed hemmed and hawed around for a few minutes, then finally asked, "What'll you pay me, Phil?"
Phil said, "Ed, I'll pay you what you're worth."
Ed looked insulted and said, "No sir. I can't work for that!"
You know...I reckon he's right.
…Steve McLean
Lockney, Texas
Volume 29 - Number 1 - Jan/Feb 2010 BC is published every other month. Send all inquiries, address changes and subscriptions to the editor: Scott Gage, PO Box 3425, Fayetteville, AR 72702-3425 Voice & Fax 479-521-6809 Email: Lsgage129@cs.com