July/August Issue 2005 - Volume 24 Number 4
In Memoriam
Ralph D. Gage July 23, 1915-July 16, 2005
Reva Gage Nov. 21, 1915-Dec. 24, 2003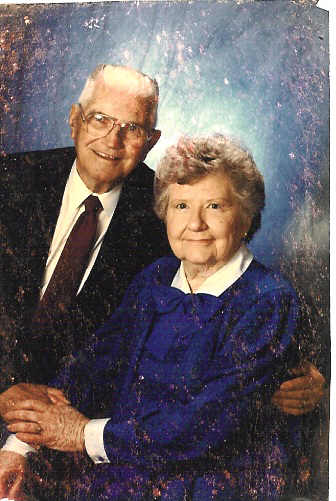 "God Wants Our Full Attention"
God wants man's full attention. In Luke 2:8-20 a group of shepherds were watching their flocks out on the hills of Bethlehem, perhaps where David watched his sheep. And God got their full attention. The angel of the Lord appeared unto them. A glory of the Lord shone around them. They were so afraid but the angel said, "Don't be afraid there is born to you this day in the city of David a Savior that is Jesus the Christ. You'll find the babe wrapped in swaddling clothes and lying in a manager." And then suddenly a multitude of angels burst into song, "Glory to God in the Highest and on earth peace, goodwill toward men." And then the angels departed. God had their full attention and they did something about it. They said, "Let's go down and see this that's happened in Bethlehem." So they went down and they found the babe wrapped in swaddling clothes and Mary and Joseph with him just like the angels said. And they departed from there and told everyone what they had seen. And everyone marvels at what's happened in Bethlehem of Judea.
I read a story one time of a farmer that had a mule that he'd bragged to all his neighbors about that he could plow that mule without a line. He said, "When I say 'giddy-up' he goes. I don't have to use a line. When I say 'gee' he goes right. When I say 'haw' he goes left. When I say 'whoa' he stops dead still." Well hard times finally came to the farmer that had this wonderful mule and he had to sell him. And he sold him to a neighbor that had heard him brag about it so much. A few days later he was down where the farmer was trying to plow the mule and the farmer said, "Well you said you could plow him without a line. I'll tell you I can hardly plow him with a line. He's got the toughest mouth I ever did see on a mule. He wants to do what he wants to do." Well the farmer who'd owned the mule said, "I don't understand." So he walked over and he picked up a fence post that was lying along the end of the row and he walked over to the old mule and he laid it along side his ribs just as hard as he could. Then he walked around and got behind the plow. He said, "Giddy-up" and the old mule started. And he said, "Gee" and he went right. He said, "Haw" and he went left. He said, "Whoa" and he stopped dead still. He said, "One thing I failed to tell you when I sold you this mule, you've got to get his full attention."
God captured these shepherds' full attention. They were just ordinary men, doing their routine work, keeping watch over their flocks. The glory of the Lord shone around about them and they were so afraid. When the angels had gone, the shepherds said, "Let's go and see." They did something about it. You know God works in our lives to get our full attention and He's constantly doing that but there is another one working, too. The devil, our advisory, walks about as a roaring lion seeking whom he may devour. The devil wants our full attention.
A young boy had just finished college and his father said, "What are you going to do, son, now that you've got your education." He said, "Well father, I just haven't decided exactly yet what I'm going to do." He said, "Well let's look around over town and see." So they started out and they came by a beautiful mansion and the son said, "You know if I had that mansion my life would just be complete. It would give my life meaning if I could live in a mansion like that." They drove on a little further and they came where a ship was unloading its cargo. He said, "That cargo must be worth millions. If I only had that my life would have meaning, it would be complete." They drove on a little further and there was a plant that manufactured automobiles and he said, "Oh, if I only owned that plant, that man must make millions there in that plant." They hadn't gone very much further when they met a funeral procession and it was the same man. The son said to the father, "This must have been a great man." "Yes," his father answered, "He was. He lived in that mansion. He owned that cargo that they were unloading and he not only owned the cargo, he owned the ship and he owned that plant where they were manufacturing those automobiles. But now we meet this funeral procession." You know it's appointed unto man once to die and after that the judgment. What are all of these things worth now? What's a man profited to gain the whole world and lose his own soul? What's this mansion worth to him now? What's this plant worth to him now? What's this ship worth to him now?
What better way to live our lives than to give our lives to the Lord? Now the point that I want to make here is that it's not wrong to try to improve ourselves. I'm not trying to teach that. We're wrong when these things capture our full attention and become the source of our life, the meaning of our life. In 1 John 2:15-17, John said, "Do not love the world or the things in the world. If anyone loves the world, the love of the Father is not in him. For all that is in the world – the lust of the flesh, the lust of the eyes, and the pride of life – is not of the Father but is of the world. And the world is passing away, and the lust of it; but he who does the will of God abides forever."
Another writer said, "He that doeth the will of God abides forever," and, "This is the word, which by the gospel is preached unto you." Give God your full attention and you will see clearly what you have been told about Christ. We need a vision. We need a heavenly vision. The wise men from the East had a heavenly vision. They saw a star. They followed that star and it led them to Jerusalem to the palace of Herod. And they asked, "Where is He that is born King of the Jews? We have seen His star and we've come to worship Him." Well you know old Herod thought he was the only king. Of course, I suppose he'd heard about one because he called in all of his wise men, his scribes and his lawyers and he said, "Where's the Christ going to be born?" So evidently he'd heard about Christ. And they said, "In Bethlehem of Judea." So he came back and he told the wise men, "Bethlehem of Judea, and when you find the child come back and tell me because I want to go worship Him, too."
So the wise men depart and there's the star again. They still have the heavenly vision. It leads them to the house where Mary and Joseph are now residing. They come in and they see the child and they worship Him and they present their gifts. They have the gift of gold, a gift for a king. They have frankincense, the gift for a priest. Well Jesus Christ was going to be king and Jesus Christ was going to be High Priest. But then they have a gift of myrrh, which is for embalming a dead body. And Jesus Christ was going to die for the sins of the world. So they presented their gifts and after they had worshiped Him they didn't go back to Herod. An angel warned them and they depart to their own country another way.
The angel of the Lord appeared to Mary and Joseph. They were told to take the child and go to Egypt. Don't tell anybody you're going, just go by night. And they did. When Herod found out he'd been deceived by the wise men he put forth his hand and slew all the male babies in Bethlehem and the surrounding area who were two-years-old and under. And as the prophet said, "Rachel weeping for her children." There was weeping and wailing in Bethlehem.
A biologist placed a flowerpot on a table. He placed one caterpillar on the rim of the container holding the plant then another caterpillar right behind him then another right after that. The caterpillars just started going around and the rim of the pot. Around and around they went. Their vision was so narrow that not one of them had broken away to go to the plant for nourishment. As a result one by one they dropped off dead. You know that's the way we'd be. Peter warned the generation when he preached on Pentecost. He said, "The promise is to you and to your children and to all that afar off even as many as the Lord our God shall call. And with many other words did he testify and exhort saying, 'Save yourselves from this untoward generation'" (Acts 2:40). The word "untoward" means going around and getting nowhere. That's what these caterpillars were doing. They had no nourishment. And you know if we follow the fleshly flow, if we never break out of that fleshly flow, we'll never enjoy the promise that God has made to us of life everlasting.
Two men were talking. One said he'd had a problem but he thought he had solved his problem. His problem was who to place in second place. His neighbor said, "Well my problem is who to place in first place." And I think that's the problem we all have. In Matthew 26:36-39 we have these words of Jesus, "Then Jesus came with them to a place called Gethsemane, and said to the disciples, 'Sit here while I go and pray over there.' And He took with Him Peter and the two sons of Zebedee, and He began to be sorrowful and deeply distressed. Then He said to them, 'My soul is exceedingly sorrowful, even to death. Stay here and watch with Me.' He went a little farther and fell on His face, and prayed, saying, 'O My Father if it is possible, let this cup pass from Me; nevertheless, not as I will, but as You will.'"
The words used here to express Jesus' frame of mind are very strong words. They describe Jesus as being in a state of horror, a state of anguish. His body must have been trembling. He sweats as if it were great drops of blood. At the heart of it all is the monumental confrontation with the real problem in life. Who to put in first place? You know one of the neighbors said his problem was who to put in second place. Well that may be the problem of a lot of us. Then the other said, "No, his problem was who to put in first place." And that's what was confronting Jesus at this time. He prayed a very human prayer, saying, "Let it pass from me. Let this cup pass from me." He comes to the real solution to the problem, saying, "Let it be done as You will, not as I will; Your will be done O God. I'm the servant of the Lord. Let it be done to me as you say."
You know Mary's acceptance of God's will in her situation when Jesus was born becomes a symbol of the lifestyle modeled for us by Jesus all the way to the cross. Gabriel came to Mary and hailed her and she didn't understand the greeting. He said, "You're highly favored and you're going to have a son." She said, "I don't even know a man. How can I have a son?" He said, "The Holy Spirit is going to overshadow you and you will bear a son, Jesus the Christ. He's the one coming into the world to save the world." And as he talks to her Mary is very frightened at first and he said, "Don't be afraid." And finally at the end of her conversation with Gabriel she said, "Let it be done to me as you say." She accepted it completely.
It was acceptance of God's will in every moment of His life that made Jesus who He was. His submission enabled God to bring Him to fullness of life and the most complete person He could possibly be because God was first in His life. He put God first in the Garden of Gethsemane and set a great example for you and me. If we want to find the wisdom to know God, know His will, His will for us in our individual lives, we must pray following the example of Jesus Himself. Jesus prayed but then He asked for instructions, your will be done. The problem is we have not learned how to pray, as we ought. We do not know what prayer is many times. We seem to think that prayer is telling God things, informing God about our own condition and telling God about all the sick and not leaving a name out less He should miss one of them. But we're told that God knows all about us before we even ask Him or He knows more about us than we can even think to ask. Actually the real meaning of prayer is listening to God.
The prodigal son is a good example. The prodigal son is like a lot of our prayers. When he left home he said, "Give me father, give me what you owe me. Give me my substance. Give it to me now." Well we pray sometimes, "Give me health, give me strength." But you know when the prodigal son came to himself he said, "Father make me." He said, "I'm not worthy to be called your son. Make me as one of your hired servants. You don't owe me anything." You know that is the way we are as we come to God. He doesn't owe us anything. Just make me a servant. Make me to be helpful in your cause, in your kingdom, make me. It is positioning ourselves to receive guidance from God. That's the purpose of prayer. God doesn't need to know all about us. He already knows all about us.
Remember the apostle Paul, known then as Saul of Tarsus; they led him to Damascus blind. Three days and nights he's without sight. He's frustrated. He won't eat; he won't drink, that's how frustrated he is. He's wondering how he can ever be forgiven. He has persecuted the church. Ananias came to him saying, "Brother Saul why tarriest thou arise and be baptized and wash away thy sins calling on the name of the Lord." He's not frustrated anymore. He receives his sight. He goes immediately and preaches Christ in the city of Damascus.
Saul's attitude indicates that he wanted instructions from God, "Lord, what will you have me to do?" God answers him, "You go and it will be shown to you what you must do. You're going to be the apostle to the Gentiles." In essence Paul responds, "Well Lord just make me what you want me to be." And that was characteristic of Paul's entire life.
What about you? What are you focusing on today? Are you focusing on things of this life? Are they foremost? Is that the meaning of life to you? Your existence here? Are you placing Jesus first? Why not put the Lord first in your life and respond like Saul on the road to Damascus? "Lord, what will you have me to do?"
A sermon preached by the late Ralph D. Gage in 2002
"Almost Persuaded To Be A Christian"
As the apostle Paul related his "heavenly vision" to King Agrippa, "Then Agrippa said to Paul, 'You almost persuade me to become a Christian'" (Acts 26:22-29). Agrippa could have said, "Paul you almost persuaded me to obey the gospel." Paul used persuasion in trying to convince Agrippa to obey Jesus Christ. He knew all must appear before the judgment seat of Christ. "Knowing, therefore, the terror of the Lord, we persuade men to obey the gospel of God's grace so that they will have God's grace as a cover for their sins, otherwise they will be found naked and suffer the terror of the Lord" (2 Cor. 5:1-11).
THE GOSPEL OF JESUS CHRIST
Paul used the message of the cross to persuade men to obey God and be saved from sin.
"God forbid that I should boast except in the cross of our Lord Jesus Christ" (Gal. 6:14).
"For I determined not to know anything among you except Jesus Christ and Him crucified" (1 Cor. 2:2).
Agrippa was "almost persuaded" to obey the gospel and be clothed with God's grace to cover his sins in the day of the Lord's terror. But "almost" is never the same as entirely.
"For I am not ashamed of the gospel of Christ, for it is the power of God to salvation for everyone who believes, for the Jew first and also the Greek" (Rom. 1:16).
The gospel is not just one of God's ways of saving man, IT IS THE ONLY WAY that God has promised to save.
FEAR, A GREAT MOTIVATOR
"For the time has come for judgment to begin at the house of God; and if it begins with us first, what shall be the end of those who do not obey the gospel of God?" (1 Pet. 4:17).
"In flaming fire taking vengeance on those who do not know God, and on those who do not obey the gospel of our Lord Jesus Christ" (2 Thess. 1:6-10).
Paul used the TERROR of the LORD in persuading men to obey the gospel. He knew that fear is a great motivator.
"The fear of the Lord is the beginning of wisdom" (Pro. 9:10).
LOVE, THE GREATEST MOTIVATOR
Paul tells the brethren at Corinth that the love of God compels him to write what he did about the judgment. Parents who love God as they should will be COMPELLED to tell their children about the judgment. (2 Cor. 5:14).
"For God so loved the world that He gave His only begotten Son, that whoever believes in Him should not perish but have everlasting life" (Jno. 3:16).
"But God demonstrates His own love toward us, in that while we were still sinners, Christ died for us." (Rom. 5:8).
The church of Jesus Christ is a brotherhood of love. The church is commanded by Christ to love one another (Jno. 13:4). Perhaps one of the hardest things for us to do is to love our neighbor as ourselves. Selfish ambition is a stumbling block for many Christians. Christian parents seem more interested in their children getting a good education so they can make money than they are in their spiritual welfare. They talk to them about getting a good education and leave their spiritual education to the church assembly or group study conducted by the youth minister.
"Fathers, provoke not your children to wrath, but bring them up in the training and admonition of the Lord" (Eph. 6:4). Instead of reading the Bible with our children and talking to them about spiritual things we watch TV, especially sports programs, and talk to them about who is first in sports or who is drawing the most money by playing with a little ball.
RESULT: Our children are more familiar with sports figures, able to pronounce all their names, than they are with the characters of the Bible whose names are hard for them.
When Christians get together their conversation is about sports, politics, immoral condition of the society in which we live, jobs, etc., everything but the Bible. The gospel of Jesus Christ is left out of the conversation lest we should offend someone! If we love our children and the souls of mankind we will try to persuade them as did Paul with the gospel.
WHY DO WE PERSUADE SO FEW
We are trying to persuade them with the wrong things. Christians must live and talk the gospel. "If you confess Me before men I'll confess you before My Father in heaven."
During the 30's, 40's and 50's the Restoration Movement was the fastest growing movement in the United States of America. Do we ever ask ourselves why? Was it because the preaching was so great? I certainly don't want to take anything away from the preaching of yesterday, but I'm convinced that the preaching was not the number one reason for the spread of the Kingdom.
Fifty years ago the Bible was read in the home, in our schools and was the number one topic of conversation when people got together. As a result people seemed to have more conviction. Every religion seems to think that they could read their doctrine right out of the Bible. They preached their doctrine on the town square and talked about it on the street, in their homes, everywhere people got together. The church of Christ thrived in this atmosphere.
All were anxious to show that everyone should believe as they believed. Many are the times, preaching under tents, in open air meetings and even in church buildings, I have had people to interrupt my preaching and inform me that I was preaching something that was not according to the Gospel!
All seemed to be working for unity of doctrine for which Christ prayed (Jno. 17:21-22). Paul always tried to persuade, not only Agrippa, but all who heard him to the "Faith which was once for all delivered to the saints" (Jude 3).
"Endeavoring to keep the unity of the Spirit in the bond of peace. There is one body and one Spirit just as you were called in one hope of your calling; one Lord, one faith, one baptism, one God and Father of all who is above all, and through all, and in you all" (Eph. 4:3-6).
When every member of the body of Christ will again feel it their responsibility to persuade men, by living and talking the Gospel, preaching will be effective as it was in past years. When the disciples were scattered they went everywhere preaching the Word. Brethren let us do likewise.
...Ralph D. Gage