July/August Issue 2008 - Volume 27 Number 4
God Is Love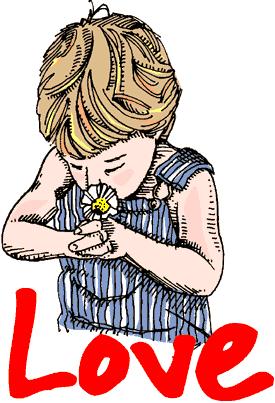 "God is love, and he who abides in love abides in God, and God in him" (1 John 4:16).
"He who does not love does not know God, for God is love" (1 John 4:8).
Love is an innate characteristic of God. Love is His nature. We must learn to love; we must grow in love. God is love.
This may not be reversed. That God is love does not mean that love is God. This misconception reduces God to the personification of a virtue. John also says, "God is light" (1 John 1:5). This does not mean that light is God.
'God is love' defines His nature.
In John's first letter he emphasizes God's love for us and how we should respond.

God showed His love by sending His Son.
"In this the love of God was manifested toward us, that God has sent His only begotten Son into the world, that we might live through Him. In this is love, not that we loved God, but that He loved us and sent His Son to be the propitiation for our sins" (1 John 4:9, 10).
"God demonstrates His own love toward us, in that while we were still sinners, Christ died for us" (Romans 5:8). "For God so loved the world that He gave His only begotten Son, that whoever believes in Him should not perish but have everlasting life" (John 3:16). "By this we know love, because He laid down His life for us" (1 John 3:16).
"But God, who is rich in mercy, because of His great love with which He loved us, even when we were dead in trespasses, made us alive together with Christ (by grace you have been saved)" (Ephesians 2:4, 5).
Nothing external can separate us from God's love: "For I am persuaded that neither death nor life, nor angels nor principalities nor powers, nor things present nor things to come, nor height nor depth, nor any other created thing, shall be able to separate us from the love of God which is in Christ Jesus our Lord" (Romans 8:38, 39).
"Behold what manner of love the Father has bestowed on us, that we should be called children of God!" (1 John 3:1).
God's love comforts us and gives us confidence to have a close relationship with Him: "We have known and believed the love that God has for us. God is love, and he who abides in love abides in God, and God in him. Love has been perfected among us in this: that we may have boldness in the day of judgment; because as He is, so are we in this world. There is no fear in love; but perfect love casts out fear, because fear involves torment. But he who fears has not been made perfect in love. We love Him because He first loved us" (1 John 4:16- 19).

"We love Him because He first loved us" (1 John 4:19).
God deserves our utmost love. Jesus said, "'You shall love the Lord your God with all your heart, with all your soul, and with all your mind.' This is the first and great commandment" (Matthew 22:37, 38).
Paul refers to "haters of God" in Romans 1:30.
God has demonstrated His love. He deserves our love. He inspires our love. Yet, each person chooses either to love or to hate God. A neutral attitude to God is not possible. God punishes those who hate Him and blesses those who love Him (Exodus 20:5, 6).
Why would anyone hate God? Because he has more love for something else. "Do not love the world or the things in the world. If anyone loves the world, the love of the Father is not in him. For all that is in the world -- the lust of the flesh, the lust of the eyes, and the pride of life -- is not of the Father but is of the world. And the world is passing away, and the lust of it; but he who does the will of God abides forever" (1 John 2:15- 17).
When we accept the loving grace of God by being baptized, God's Spirit is poured out on us: "But when the kindness and the love of God our Savior toward man appeared, not by works of righteousness which we have done, but according to His mercy He saved us, through the washing of regeneration and renewing of the Holy Spirit, whom He poured out on us abundantly through Jesus Christ our Savior, that having been justified by His grace we should become heirs according to the hope of eternal life" (Titus 3:4-7).
Through the Spirit, the love of God is poured out in our hearts: "Now hope does not disappoint, because the love of God has been poured out in our hearts by the Holy Spirit who was given to us" (Romans 5:5).
We receive the gift of the Holy Spirit when we are baptized: "Repent, and let every one of you be baptized in the name of Jesus Christ for the remission of sins; and you shall receive the gift of the Holy Spirit" (Acts 2:38).
The love of God is poured out in our hearts by the Holy Spirit who is given to us. Because we have experienced God's love, we want to love Him and others the way He loves us.

He who loves God must love his brother also.
"And this is His commandment: that we should believe on the name of His Son Jesus Christ and love one another, as He gave us commandment" (1 John 3:23).
"Beloved, let us love one another, for love is of God; and everyone who loves is born of God and knows God. He who does not love does not know God, for God is love. In this the love of God was manifested toward us, that God has sent His only begotten Son into the world, that we might live through Him. In this is love, not that we loved God, but that He loved us and sent His Son to be the propitiation for our sins. Beloved, if God so loved us, we also ought to love one another. No one has seen God at any time. If we love one another, God abides in us, and His love has been perfected in us" (1 John 4:7-12).
Paul told the Thessalonians: "But concerning brotherly love you have no need that I should write to you, for you yourselves are taught by God to love one another" (1 Thessalonians 4:9).
"This is the message that you heard from the beginning, that we should love one another" (1 John 3:11).
People ought to recognize us as followers of Christ because of our love for one another. Jesus tells His followers: "A new commandment I give to you, that you love one another; as I have loved you, that you also love one another. By this all will know that you are My disciples, if you have love for one another" (John 13:34, 35).
It is not enough to say we love our brethren. True love gives practical assistance where needed: "By this we know love, because He laid down His life for us. And we also ought to lay down our lives for the brethren. But whoever has this world's goods, and sees his brother in need, and shuts up his heart from him, how does the love of God abide in him? My little children, let us not love in word or in tongue, but in deed and in truth" (1 John 3:16-18).
"If someone says, 'I love God,' and hates his brother, he is a liar; for he who does not love his brother whom he has seen, how can he love God whom he has not seen? And this commandment we have from Him: that he who loves God must love his brother also" (1 John 4:20, 21).

He who loves God keeps His commandments.
Jesus says: "This is My commandment, that you love one another as I have loved you. Greater love has no one than this, than to lay down one's life for his friends. You are My friends if you do whatever I command you" (John 15:12-14).
"Now by this we know that we know Him, if we keep His commandments. He who says, 'I know Him,' and does not keep His commandments, is a liar, and the truth is not in him. But whoever keeps His word, truly the love of God is perfected in him. By this we know that we are in Him. He who says he abides in Him ought himself also to walk just as He walked" (1 John 2:3-6).
Some misuse the statement, "If we love one another, God abides in us" (1 John 4:12) to claim that what we teach or how we worship is not important as long as we love one another. But John explains: "By this we know that we love the children of God, when we love God and keep His commandments. For this is the love of God, that we keep His commandments" (1 John 5:2, 3). "This is love, that we walk according to His commandments" (2 John 6).
If our teaching and worship are not according to the word of the Lord, we are liars when we say we love God and we are liars when we say we love the brethren, according to the Apostle, John.

What have we learned about God's love and our response?
"God is love, and he who abides in love abides in God, and God in him" (1 John 4:16). "He who does not love does not know God, for God is love" (1 John 4:8).
God showed His love by sending His Son. We love Him because He first loved us. He who loves God must love his brother also. He who loves God keeps His commandments.
"Now may the Lord direct your hearts into the love of God" (2 Thessalonians 3:5). "Keep yourselves in the love of God" (Jude 21).
"Be of one mind, live in peace; and the God of love and peace will be with you" (2 Corinthians 13:11). "The grace of the Lord Jesus Christ, and the love of God, and the communion of the Holy Spirit be with you all. Amen" (2 Corinthians 13:14).
...Roy Davison
www.oldpaths.com
Speaking the Truth in Love
The Apostle Paul told Timothy, "Preach the Word, be ready in season and out of season. Convince, rebuke, exhort, with all longsuffering and teaching" (2 Timothy 4:2). Paul later said of himself, "Woe unto me if I do not preach the gospel!" (1 Corinthians 9:16). If you combine Matthew 28:18-19 and 1 Peter 2:9 you see that we all are required to teach the gospel to the lost.
But how do we ensure effectiveness? There is not a guarantee on that. Ultimately, we plant the seed but God gives the increase (1 Corinthians 3:6). One thing we can do is be certain we are speaking the truth in love (Ephesians 4:15).
If you look at the things we most often lie about, you see that, for the most part, we lie so people will not get offended. But it is still a lie.
If we change Biblical truth to appease the listener we have lied (Isaiah 30:8-14).
John 8:37 says the "truth will set us free." First, we must be uncompromising when we proclaim the truth of God's Word. However, we must be flexible concerning men's hearts. Matthew 7:12 says, "Whatever you want men to do to you, do also to them." When we sit down to study with a prospect we must treat him with the same care and respect we would desire for ourselves.
Second, we must be persistent but patient. John 1:1-3 tells us that Jesus is the Word of God and Hebrews 13:8 adds that He is the "same yesterday, today and tomorrow." While the truth of Scripture never changes, our level of patience must continue to grow. Having someone overturn our core beliefs is a heart-wrenching process. When we study with someone we must be patient to allow them to go through the transformation and be understanding when it fails.
Third, we must be firm but factual. Our opinions and traditions should never dictate what we teach. Matthew 15:14 promises, "If the blind leads the blind, both will fall into a ditch."
Finally, we must hold the line but be helpful. The gospel is to win souls and not to win arguments. Ephesians 6:10-17 says we are in a spiritual war with Satan and his forces. We are not at war with the sinner, only the sin. He has a soul that needs love and guidance.
Richard Mansel
www.oldpaths.com
"The Price Of Infotainment"

Two friends walk toward a destination. The path has at times been steep and is not always smooth. Their pace is labored as they come to a fork in the road. The road that branches off goes downhill and is attractively landscaped. There are no signs, however, to tell them where this new path will lead. They can't resist the temptation, and head downhill on the easier path. The farther they go, however, the farther they are from their destination.

That people often choose the easier course is no surprise to any of us; we're often guilty of the same. But do we calculate the price of taking that easier course? Will it lead to a place we really want to be?

Susan Jacoby is on a campaign to awaken Americans. The title of her newly published book, "The Age Of Unreason", may not prompt multitudes to rush out to bookstores, but she has a message that needs to be heard. Americans, she contends, are being "dumbed down" because they more often choose entertainment than information.

In a recent interview with "U.S. News & World Report", Jacoby talks about "infotainment". As one can quickly see, it's a combination of the words "information" and "entertainment". In our culture, the emphasis is usually on the latter. More Americans choose to be entertained by the electronic media (television and the Internet, e.g.) than to be informed by the more "rational" means (books or other print media). She states, "Video culture, as it appears in the digital media, gives you a quick hit but doesn't encourage you to go

further. It substitutes for reading more" ("The Ignorant American", March 10, 2008, p. 22).

Jacoby's title for her article in the "Washington Post", February 24, 2008, commands more attention: "We Actually Love Being Idiots". In that article she pointed to a 2007 study by the National Endowment For

The Arts. "In 1982, 82% of college graduates read novels or poems for pleasure; two decades later, only 67 percent did. And more than 40 percent of Americans under 44 did not read a single book - fiction or nonfiction - over the course of a year." She concluded her point by noting that the latter results arose as personal computing, Web surfing and video games became commonplace.

Is there a price to be paid for this surge in infotainment? Those who have laughed at Jay Leno's "Jay Walking" segments on "The Tonight Show" know that many Americans lack even basic facts that once were

common. A similar interview was conducted on an esteemed college's campus. Students were asked whether a certain event had happened in the nineteenth century or in the 1800s. None of the respondents shown on the video caught the fact that the two answers were the same.

Jacoby points to many such indicators that Americans are turning away from intellectual pursuits (as simple as reading a novel) in favor of YouTube and other electronic cotton candy. She uses the word "antirational" to describe the trend. Others use stronger terms such as "anti-intellectual". Michael Albert, on zmag.org flatly states, "An 'anti-rationality' trend is sweeping our society."

The choices before us couldn't be clearer: One involves mental concentration and focus; the other requires only that we get comfortable, tune in and watch. Under the guise of "relaxation", many of us choose a path that takes us farther from where we want to be.

How do you suppose this trend affects our nation's Bible literacy? In a "Jay Walking" skit from March 2007, Leno asked one young lady to complete the following: "In the beginning, God created ..." She

responded with the answer, "Peace" (the correct answer is "the heavens and the earth"). When asked how many commandments there were, she answered "twelve". (I wish I could tell you that Leno has difficulty

finding such people to interview!)

Is it really so important that we know the teachings of the Bible? While our society might answer "Of course not!", let's consider some statements from this Book. Proverbs 3 is a good place to begin: "My son, do not forget my law, but let your heart keep my commands; for length of days and long life and peace they will add to you. ... Happy is the man who finds wisdom, and the man who gains understanding; for her proceeds are better than the profits of silver, and her gain than fine gold" (Proverbs 3:1-2,13-14). According to this, time spent reading God's word will lead to a much richer life.

The book of Psalms opens with a warning against associating with people who care nothing for God's teachings (such as the characters we regularly see depicted on television and on the Internet). The better

choice of how to spend our time is this: "But his delight is in the law of the Lord, and in His law he meditates day and night" (Psalm 1:2). If we had the ability to drop in on homes throughout America this evening, how many would be found with open Bibles?

The problem was present long ago in the days of the prophet Micah. He observed this about God's people: "If a man should walk in a false spirit, and speak a lie, saying, 'I will prophesy to you of wine and drink,' even he would be the prattler of this people" (Micah 2:11). Then, as now, a person doesn't generally draw a large audience by talking about God's word. If you want to deliver lectures on wines and fine dining, though, an entire television network may spring up around you!

Let's see if we can make this clear: Suppose a person was diagnosed with cancer. He is told, however, that with chemotherapy the problem can be cured. When told when those treatments will take place, he refuses: "I can't do chemotherapy then! That's when my favorite show on TV comes on." Would we consider such a person foolish?

Are we suggesting that Bible reading is as important as chemotherapy for a cancer patient? No - we're saying it's more important. We base that claim on James 1:21: "Therefore lay aside all filthiness and overflow of wickedness, and receive with meekness the implanted word, which is able to save your souls." Chemotherapy, if successful, can add years to a person's life. God's word can lead to salvation of one's soul, and that's an issue of eternity!

Perhaps you remember Jesus' parable of the wise and foolish builders. Only one built his house in a way that it could withstand a vicious storm. What was Jesus' application for us? "Therefore whoever hears these sayings of Mine, and does them, I will liken him to a wise man who built his house on the rock" (Matthew 7:24). Are we interested in building a life that will withstand the storms of life? Are we hearing "these sayings of" Jesus, much less, doing them?

We face today a literal avalanche of entertainment options. When you finally get a moment to relax, you have dozens of choices of what to do. But only one of those choices will open the door to a better life on earth as well as a blissful eternity. It's not the easiest path, and it requires more effort than the others. Make sure you know the consequences before you make your choice. And then make time for God's word!

Would you like to know more about beginning your own study of God's word? Get in touch with me, and let me tell you about simple ways to get started in reading this Book of books. God gave this Book for all

people, and I know you can understand it by following simple principles. Let's talk about that today!

...Timothy D. Hall

Hem-Lines March 7, 2008

12 Rules for Writing Good

1. Verbs has to agree with their subjects.

2. Prepositions are not words to end sentences with.

3. And don't start a sentence with a conjunction.

4. It is wrong to ever split an infinitive.

5. Avoid clichés like the plague. (They're old hat.)

6. Be more or less specific.

8. Parenthetical remarks (however relevant) are (usually) unnecessary.

9. Also too, never, ever use repetitive redundancies.

10. No sentence fragments.

11. Don't use no double negatives.

12. Proffread carefully to see if you any words out.