July/August Issue 2011 - Volume 30 Number 4
Joyful Are People of Integrity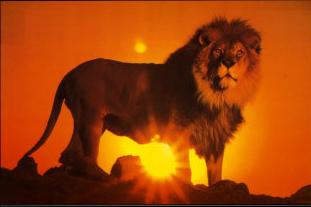 "Blessed are the undefiled in the way, who walk in the law of the Lord!" Psalm 119:1 (NKJV)
"Joyful are people of integrity, who follow the instructions of the Lord." Psalm 119:1 (NLT)
This quotation from Psalm 119 is another one of the beatitudes from the Bible…the "blessed's" or the "joyful's." I have given it in both the New King James Version and the New Living Translation.
This passage answers three questions for us. First, who are people of integrity? Second, how do we obtain integrity? Third, what are the results of integrity?
There are multitudes of people who strive for personal achievement. They want to gain recognition; they want to be noticed in the world. Sometimes people are not careful about how they obtain the recognition they desire. In fact, sometimes they abandon character, honesty and moral virtue in a mad dash to reach the top of their profession and solidify their bottom line. Joy is not always the outcome of such endeavors.
The dictionary defines integrity as the "firm adherence to a code of especially moral values and incorruptibility." This rule applies to the common, secular standards of integrity. The Christian is called to an even higher standard of integrity, but the Christian is also promised the unlimited resources of the Lord Jesus to empower his quest for joyful integrity.
According to the text the ones who have integrity are those who follow the Lord. The Psalmist emphasizes that following the instructions of the Lord determines who has integrity and he also shows how it is obtained…by following the Lord's instructions. There are no short cuts to true integrity.
Joy, or blessedness, is the promised result of true integrity. The Psalmist further emphasizes that true happiness in life isn't in things, it is in character. The common and crude saying among the go-getters is that the one who winds up with the most stuff in the end is the winner. How wrong that is!! History is filled with stories of financially successful people who were not joyful or happy. They were downright miserable. Why? Because real joy is found in the character of Jesus living in us!
May we truly seek God with our whole heart (Ps. 119:2) so that we find the strength to walk in his ways and learn to understand God's righteous judgments.
…lsg
"Integrity is doing the right thing, even if nobody is watching."
"Integrity is telling myself the truth. And honesty is telling the truth to other people."
...Spencer Johnson
Who Possesses Integrity?
The Bible says in Psalm 119:1-5, "1) Blessed are the undefiled in the way, who walk in the law of the LORD. 2) Blessed are they that keep his testimonies, and that seek him with the whole heart. 3) They also do no iniquity: they walk in his ways. 4) Thou hast commanded us to keep thy precepts diligently. 5) O that my ways were directed to keep thy statutes!"
The New Living Translation (NLT) says, "1) Joyful are people of integrity, who follow the instructions of the Lord. 2) Joyful are those who obey his laws and search for him with all their hearts. 3) They do not compromise with evil, and they walk only in his paths. 4) You have charged us to keep your commandments carefully. 5) Oh, that my actions would consistently reflect your decrees!"
According to Psalm 119, those who truly possess integrity are those who "follow the instructions of the Lord" (v.1). They are a joyful people because they obey God's laws and "search for Him with all their hearts" (v.2). Those who truly possess integrity are those who "walk only in His paths"- they do not walk in the paths of evil (v.3). They are diligent, careful, and consistent in keeping the commandments of God (v.4-5).
The word "integrity" comes from the Latin word "integer" meaning "untouched, whole, or complete". Our English word "entire" comes from the same Latin root "integer" by way of the French language. In elementary mathematics we learned that whole numbers are integers. Decimals and fractions are not integers, only whole numbers, like 1, 2, 3, and so on.
As Christians, we should strive for wholeness and integrity in our service to God. We should love God with integrity. Jesus taught that the greatest commandment was to "love the Lord thy God with all thy heart, and with all thy soul, and with all thy mind" (Matt. 22:37). God desires all of our love, not just a fraction of it, not just 99% of it- He wants our love in its entirety! We should also live with integrity. James 1:27 teaches us that pure religion requires that we keep ourselves "unspotted from the world"- untouched, unpolluted by worldliness. Our Christian lives should serve as living examples of God's good, acceptable, and perfect will (Rom. 12:1-2). We should also worship with integrity. In Exodus 20:24, God told the children of Israel to build an altar of stones. God also said concerning the stones of the altar, "Thou shalt not build it of hewn stone: for if thou lift up thy tool upon it, thou hast polluted it" (Exo. 20:25). The stones of the altar were to be untouched, whole, complete- stones of integrity! These unpolluted stones typify the type of true, unadulterated worship which God seeks even today (Jn. 4:23-24). Integrity should be ever-present as we love, live for, and worship our Heavenly Father. Just as faith comes by hearing the Word of God (Rom. 10:17), integrity comes through obeying the Word of God.
"Joyful are people of integrity" (Ps. 119:1). Take a moment to examine yourself. Is integrity something which you possess in the sight of God? Think about all the things you possess- your home, your car, your clothes, etc. These earthly possessions can be snatched away only in a matter of minutes. On May 22nd, a tornado with wind speeds upward of 200 mph ravaged the nearby city of Joplin, MO. Our family members, friends, and co-workers were affected by this devastating storm. Some lost their homes, their cars, their clothes. Some even lost loved ones. I couldn't help but think about Job in the sad days that followed this tragedy.
According to Job 1:1 (NLT), Job was "a man of complete integrity" and he didn't let the storms of life change that! Job lost all his livestock, all of his camels, and nearly all of his hired servants. Last of all, Job lost his 10 children in a tornado-like wind storm (Job 1:19). Like so many in Joplin, Job lost many of the things which make life so enjoyable. However, the one thing Job didn't lose was his integrity. Job 2:9 says, "Then said his wife unto him, Dost thou still retain thine integrity? curse God, and die." At the lowest point of his life, Job was able to muster the joy to worship the Lord saying, "Blessed be the name of the Lord" (Job 1:20-21). Where did this joy come from? "Joyful are people of integrity, who follow the instructions of the Lord" (Ps. 119:1, NLT).
The storms of life may come and take away your earthly possessions, but nothing can take away your integrity. This isn't to say that you can't forfeit your integrity. Indeed, we can and do forfeit our integrity when we fail to follow the instructions of the Lord. There is no joy to be found when we disobey the Lord. Instead of disobedience, we should keep a tight grip on our integrity, as did Job, striving always to walk in the law of the Lord. Job said in Job 27:4-6, "My lips shall not speak wickedness, nor my tongue utter deceit. God forbid that I should justify you [Job's misguided friends]: till I die I will not remove mine integrity from me. My righteousness I hold fast, and will not let it go: my heart shall not reproach me so long as I live." Your integrity is an invaluable possession- guard it well.
Are you looking to get more joy out of life? There's an unsurpassable joy that comes from knowing the Christ who died for us despite our sins and imperfections. Oh, that our actions would always reflect the decrees of God's Word (Ps. 119:5)! As much as we desire to walk perfectly in His ways, at times, we can expect to stumble and fall. Christ died for this very reason. When we stumble and fall, Christ is always there with a nail-pierced hand to help us up. He loved us first, but, it's our love for Christ that keeps us pursuing the straight and narrow path. There's much joy that comes from knowing what awaits us at the end of this straight and narrow path - eternal life (Matt. 7:14).
...James Luedecke
Grove, Oklahoma
JOY- THE RESULTS OF INTEGRITY
"Joyful are the people of integrity, who follow the instructions of the Lord." (Psa.119:1)
Webster defines integrity as uprightness, honesty and sincerity. David, however, defines it more precisely and more personally as those "who follow the instructions of the Lord." He says honest people are happier than dishonest people. But don't expect this to be supported by a poll somewhere. A poll would require the input of dishonest people. Therefore, who could believe the results? It's much simpler to trust God's word in the matter and then obey it.
Just as Christ gave us the "Beatitudes" (Matt. 5:1-10) Moses gave to the Jewish people a similar list which declared a person "blessed" or joyful by "diligently obeying the voice of the Lord" (Deut. 28:1-6). However, the difference between the two is much like the respective covenants they represent. Moses promised blessings that were material in nature while the Lords' were spiritual. Therefore, since the Law of Moses has been taken out of the way (Col.2:14) we should expect genuine blessings to come in spiritual form.
Unfortunately today it seems as if material blessings trump the spiritual. In some respects the average church today resembles more closely the church at Corinth or that at Laodicea, since the world holds sway over more and more of them. "I could not speak to you as to spiritual people but as to carnal, as to babes in Christ," was Paul's rebuke to the church at Corinth (I Cor.3:1) and it seemed the Laodiceans were all about making a good impression with their wealth. Christ, however, exhorted them to pursue spiritual, eternal riches. "I counsel you to buy from Me gold refined in the fire, that you may be rich" (Rev.3:18). Still, despite their great wealth, they were "miserable." What happened?
Basically, those who pursue happiness just for the sake of happiness are less apt to find it. On the other hand, those who pursue the enduring principles of integrity will find an abundance of joy as well as other unexpected blessings. For example, Solomon said, "He who walks with integrity, walks securely" (Prov.10:9). Striving for integrity has the added benefit of peace of mind. Do we instead strive first for the security by way of an elaborate home security system and then whenever a power failure disables it, crouch in horror?
There is a calm assurance which money simply cannot buy and it is given by God only to those who bind themselves to His standard of integrity. "He is a shield to those who walk uprightly" (Prov.2:7). Paul wrote: "Be anxious for nothing but in everything by prayer and supplication, with thanksgiving let your requests be made know to God and the peace of God which surpasses all understanding will guard your hearts and minds through Christ Jesus" (Phil.4:6). Indeed, there is no more joyful person in this world than the one who is at peace with God, himself and others.
Joy, however, is not exclusive to Christians. Immoral, ruthless and hateful people experience joy too. Haman, for example was just such a person (Est.5:9). One day as he left the prestigious company of the King and Queen he was, for a moment, full of joy. And yet in the space of a few steps his elation quickly turned to indignation. As he spotted Mordecai, sitting in the Kings gate, suddenly he was filled with hatred so intense that only Mordecai's death could restore Haman's happiness. How is it possible then for people with zero integrity to experience joy at all, even momentarily?
The word of God seems to address two types of joy. One is born of human emotion, which is transitory and shallow. This is what Haman displayed and is virtual. The other is born of the Spirit of God (Gal.5:22), which is enduring and deep. This is what Christ offers and is actual.
Once, as a child, a day at the county fair was the epitome of ecstasy. No greater rapture awaited me than riding a host of nausea inducing machines which for the most part cost only twenty-five cents each. Not a bad price for happiness. Unfortunately, when the quarters ran out so did the joy. Yet this kind of virtual bliss seems to be what Americans prefer these days. Is it fun? Better yet, is it exciting! Mainly, does the experience come with a framed color portrait of our most ecstatic moment?
Like it or not, this type of fleeting joy has become problematic to say the least. For believers and unbelievers alike entertainment, and the means to provide it, has become paramount in life. "Eat, drink and be merry" is now the resurrected motto for all. This dogged pursuit of virtual joy simply prepares the heart and mind for the seeds of unrighteousness. And wherever it takes root, integrity is almost certainly choked out. "For all that is in the world, the lust of the flesh, the lust of the eyes and the pride of life, is not of the Father but is of the world" (I Jn. 2:16). "Right preacher," you may scoff, "like I once rode the Ferris wheel and now I'm headed for hell….Yea, right!"
However, if the Devil can manage to con us into swapping our joy in Christ for some cheap imitation, he's got us! After all, his work in Eden was merely convincing humanity that one fruit was just as good, if not better, than the other. And he did just that. The only difference was, in the end, their eyes were opened and they we're ashamed. Today, folks have settled for virtual joy, superficial delights that, by their very nature, never completely satisfy. Therefore, because they don't they are increasingly ingested, like crack cocaine. Or like children at the county fair we've become very adept at finding more quarters.
If you doubt it, consider the hours spent pursuing virtual joy via the TV, I-pods, Wiis, texting, movies, concerting, ball games, camping, fishing, hunting, hobbies, skiing, mountain climbing, fourwheeling, traveling, golfing, board games, cards, dominoes, Sudoku, etc., etc., etc, etc.
Now consider the hours spent pursuing actual joy via reading the Word of God, worshiping, praying, visiting the sick, helping our neighbors, teaching the lost, comforting the grieving, encouraging the weak, feeding the hungry and so forth. If we do the math, and provided we have integrity, we may be shocked.
The pursuit of virtual joy imparts some value. Even Paul acknowledged this. "Bodily exercise profits a little" (I Tim 4:8); however, the pursuit of integrity (godliness) "is profitable for all things, having promise of the life that now is and of that which is to come." The difference is clear and should be emphasized in closing. Virtual joy, though having some value, has no promise of the life that now is or of that which is to come. In addition, virtual joy, which is a form of self-seeking (Ja.3:16 NKJ) is something that is pursued whereas actual joy is the results of striving for something outside of ourselves, something that's as much a blessing to others as it is to us. In this case, integrity fits the bill.
"…who for the Joy that was set before Him endured the cross….."(Heb.12:2)
...Danny Johnson
West Monroe, Louisiana
Volume 30 - Number 4 - Jul/Aug 2011 BC is published every other month. Send all inquiries, address changes and subscriptions to the editor: Scott Gage, PO Box 3425, Fayetteville, AR 72702-3425 Voice & Fax 479-521-6809 Email: Lsgage129@cs.com
www.basicchristianity.net