May/June Issue 2005 - Volume 24 Number 3
On Human Bondage
<![if !vml]>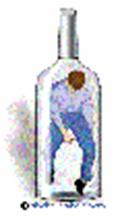 <![endif]>
"On Human Bondage"
"For I know that in me (that is, in my flesh) nothing good dwells; for to will is present with me, but how to perform what is good I do not find. For the good that I will to do, I do not do; but the evil I will not to do, that I practice. Now if I do what I will not to do, it is no longer I who do it, but sin that dwells in me. I find then a law, that evil is present with me, the one who wills to do good." Romans 7:18-21
"Therefore I run thus: not with uncertainty. Thus I fight: not as one who beats the air. But I discipline my body and bring it into subjection, lest, when I have preached to others, I myself should become disqualified." 1 Corinthians 9:26-27
Anyone who has struggled with his or her own conscience understands the battle that Paul describes in Romans 7. We can all attest to the law that "evil is present with me, the one who wills to do good." We make up little clichés to deter our human foibles: "I must bite my tongue;" "Count to ten;" "Take a deep breath." The fact remains that we know much better than we do. As James warns us, the tongue may be a small member of our body but it can be very unruly, especially in the heat of some moment. And there are other desires of the flesh that engulf us and carry us away like a flood. Solomon was one of the wisest men that ever lived, but he fought this same battle with the flesh and often found himself on the losing end.
It would be wonderful if we could swallow a pill or take a simple 8-week course and be done with the flesh. Unfortunately it isn't that easy. In fact, Paul's statement in 1 Corinthians 9 about disciplining his body seems to indicate that this is an ongoing struggle. We may gain some ground and win successive battles, but the forces of the flesh continue to hide on the perimeter of our lives waiting for another opportunity to wage a successful campaign. Many battles may be fought and even won, but the war is never over as long as we live in this world. Sometimes we strive just to keep the ground we have gained.
The Apostle Peter encourages us with his admonition that we can gain some ground and grow into more maturity in Christ. Peter said he would not be negligent to remind us that by giving diligence we can add to our faith: virtue, knowledge, self-control, perseverance, godliness, brotherly kindness and love (2 Peter1:5-12). The key to this transformation is in giving diligence. It is something that requires an effort on our part. We can't just take a pill or enroll in a simple course. We can't expect the Holy Spirit to make us holy without us lifting a finger to help the process. The old saying is that Rome wasn't built in a day, and neither is Christian character.
In years past we used to hear the term "backslider." A backslider was someone who had been baptized into Christ, walked with Him for a while and then gone back into the world. We don't hear that terminology much today. We hear a lot about people who choose "alternative life styles." But the general consensus is that one alternative life style is just as good as another. God forbid that anyone should question another's chosen life style. In our endeavor to be tolerant and non-condemnatory of anything and everything, we have made the word "sin" obsolete. And when sin is no longer sin, anything goes. One thing that we simply will not tolerate today is for anyone to call someone a backslider or a sinner! That just confirms how far society in general has drifted from God's truth.
While the specific word "backslider" may not be used to translate any New Testament passage, the idea behind this term is certainly found. Paul admonished the Galatians, "Brethren, if a man is overtaken in any trespass, you who are spiritual restore such a one in a spirit of gentleness, considering yourself lest you also be tempted" (Galatians 6:1). The ideas that are prevalent in our culture today deny that there is any problem with being overtaken in a trespass, and so the warning about being careful not to be tempted is both useless and inflammatory. Today men are not tempted and they don't trespass; they just choose an alternative life style. Men make these choices under the banner of freedom, but what they fail to realize is that they have been enslaved either to their own desires or to some unholy philosophy.
Years ago W. Somerset Maugham wrote a book entitled, Of Human Bondage. Many critics believe that this book was autobiographical. One critic observes: "What in his hero Philip Carey was a clubfoot was for Maugham a painful stammer. What was Carey's public school at "Tercanbury" was Maugham's Canterbury. And, what is most interesting, what were Carey's tortured amours with the opposite sex were Maugham's tortured amours with the same sex "(James Paris, "The Skull Beneath the Skin," review in Amazon.com). I read this book some years ago myself and don't remember too many details. However, I do remember that the title of the book suggests the many twists and turns, unfortunate circumstances and unpredictability that characterize the human condition. Solomon describes this condition as "life under the sun" in Ecclesiastes. And by that phrase Solomon is referring to life here on earth. Solomon offers this observation on life under the sun: "Therefore I hated life because the work that was done under the sun was grievous to me, for all is vanity and grasping for the wind" (Ecclesiastes 2:17).
There is enough pain and anxiety in the world to make a skeptic of the most ardent optimist. However, Solomon didn't end his book with a skeptic's view; rather Solomon directed our attention to the fact that there is another life above the sun; it is not of this world; it is spiritual and eternal. Solomon states in the end of Ecclesiastes, "Let us hear the conclusion of the whole matter: "Fear God and keep His commandments, for this is the whole duty of man. For God will bring every work into judgment, including every secret thing, whether it is good or whether it is evil" (12:13-14). This is a far cry from the way one critic summarized the conclusion of Maugham's book:
Maugham is an excellent writer. However, unlike other reviewers, I was totally unable to identify with the protagonist. Phillip's euphoria at having discovered such a thin and shallow meaning for existence at the end of the novel was entirely unbelievable for me. His pain was real. His passion was real. But I cannot accept that his contentment at the end of the book was real. Regret has a purpose. Life has a purpose. Morality has a purpose. Those who would explain away life's challenges by writing them off as quirks of nature . . . I find it very difficult to believe that they achieve any lasting peace. I was upset with the novel, because I think that what was real (Phillip's emotion and experience) was turned into a lie by Maugham's interpretation of that experience in the final pages. (No name given, review in Amazon.com)
I hope that I haven't lost any of my readers by this path I have chosen to follow in contrasting Maugham with Solomon. Maugham represents unredeemed man's attempt to explain the condition of human bondage. He represents man's attempts to explain and make sense of life without acknowledging God. Solomon, on the other hand, demonstrates that life on earth, in the fallen condition, can seem without hope or without purpose. Life becomes vain and just a striving after the wind. However, there is something else; in fact, there is someone else. That someone else is the creator God who is directing all of His creation toward an intended purpose.
When we speak of bondage we are speaking of the human condition. Paul says that we have a choice to make about whom we will serve. Serving is not optional. We will and we must serve one of two masters:
Likewise reckon yourselves to be dead to sin, but alive to God in Christ Jesus our Lord. Therefore do not let sin reign in your mortal body, that you should obey it in its lusts. And do not present your members as instruments of unrighteousness to sin, but present yourselves to God as being alive from the dead, and your members as instruments of righteousness to God. For sin shall not have dominion over you, for you are not under law but under grace. What then? Shall we sin because we are not under law but under grace? Certainly not! Do you not know that to whom you present yourselves slaves to obey, you are that one's slaves whom you obey, whether of sin to death, or of obedience to righteousness? But God be thanked that though you were slaves of sin, yet you obeyed from the heart that form of doctrine to which you were delivered. And having been set free from sin, you became slaves of righteousness. Romans 6:11-18
Paul says that we are either in bondage to sin or we are in bondage to obedience. The first slavery results in death and the second slavery results in righteousness. Slavery to sin is a downward spiral into the abyss, but slavery to obedience is an upward climb into heaven. Slavery to sin is, in essence, the giving in to our own selfish desires. We don't need self-control to serve sin; all we need is an unbridled rush to fulfill every fleshly desire. To most people this seems the easiest and the best path to follow. Isn't this exactly what Jesus meant when he said, "Enter by the narrow gate; for wide is the gate and broad is the way that leads to destruction, and there are many who go in by it. Because narrow is the gate and difficult is the way which leads to life, and there are few who find it" (Matthew 7:13-14).
To speak of being in slavery to obedience is an interesting concept. Even though the Apostle Paul clearly links slavery and obedience in this passage, most of us just don't think in terms of being enslaved to obedience. An employee may feel like the boss is a slave driver or a wife may feel that her husband is a tyrant. But somehow we just have trouble connecting the idea of Jesus as King and His right to command us to obedience. In fact, in these days of liberation and tolerance the word "obey" has been cast into the trash heap along with words like "sin," "trespass," "sinner" and "repent."
Paul also indicates that we have some responsibility in this matter of human bondage. He speaks in terms that clearly indicate that we have to make some choices and decisions. We are the ones who "present our members" either to sin or to obedience. We are the ones who either "obey from the heart that form of doctrine" or reject the form of doctrine. The doctrine that Paul calls our attention to is the death, burial and resurrection of Christ (see 1 Corinthians 15:1-4), and the form of that doctrine that we obey is our burial with Christ in baptism (Romans 6: 3-6). We are to rise from the waters of baptism committed to "reckoning" ourselves as dead to sin and alive to righteousness.
Providing the way of grace was not easy for Christ. He gave His life on Calvary to purchase our redemption. Receiving His grace is not as easy as some would like to make it. Some in Paul's day thought that since God's grace paid the price for sin that it was ok to just go on sinning (Romans 6:1, 15). In their understanding there was no need for "reckoning" oneself as dead to sin. Paul teaches that we are to rise from baptism to walk in newness of life. This new life doesn't just come automatically. There is some reckoning we must do; there are some choices that we must make; there is a price that we, too, must pay. Jesus stated it in these terms: "If anyone desires to come after Me, let him deny himself, and take up his cross, and follow Me. For whoever desires to save his life will lose it, and whoever loses his life for My sake will find it. For what is a man profited if he gains the whole world, and loses his own soul? Or what will a man give in exchange for his soul?" (Matthew 16:24-26). The Christian life is not the easiest life to live, but it is the best life for both time and eternity.
The human condition is one of bondage. We can only hope that we make the right decision in choosing a master to serve. It seems apparent that the one who captures our attention will eventually control our lives. It should also be pointed out that we are ones who decide to whom or to what our attention is directed. There is a battle that is constantly being waged between the flesh and the spirit. The one who is forewarned can be prepared. It is a matter of choosing wisely. A man may have to mow his lawn, but he can choose when to do it. He doesn't have to mow in the noonday heat without a shirt on his back. That is a decision that is sure to result in sunburn. He can choose the cool of the day and wear a shirt and avoid the pain of a sunburned back. It is his choice to make, though.
One of the stories told in Greek Mythology involves the sirens. The sirens were sea nymphs who inhabited certain Mediterranean costal areas. According to the myth, as the ships passed by the sirens would sing such enchanting songs that the sailors would jump overboard and drown. When the ship of Odysseus had to pass by one of these areas, he ordered his men to bind him to the mast with ropes. And he further ordered his crewmen to seal their ears with wax to block out the sound of the sirens' music. Because Odysseus took such precautions, he and his men were able to sail those waters without yielding to the allure of the sea nymphs.
God's word informs us, warns us and encourages us in what is good and right. God wants our attention so badly that He sent His only begotten Son to die on the cross for our sins. And now He bids us to choose bondage to Christ Jesus instead of bondage to sin and death. But it is a choice that we must make. The psalmist pronounces this blessing upon the one who chooses wisely: "Blessed is the man who walks not in the counsel of the ungodly, nor stands in the path of sinners, nor sits in the seat of the scornful; but his delight is in the law of the Lord, and in His law he meditates day and night" (Psalm 1:1-2).
...scott gage
"Changing Your Behavior"
"Walk by the Spirit, and you will not carry out the desire of the flesh" (Galatians 5:16).
A careful distinction must be made concerning your relationship to the flesh as a Christian. There is a difference in Scripture between being in the flesh and walking according to the flesh. As a Christian, you are no longer in the flesh. That phrase describes people who are still spiritually dead (Romans 8:8), those who live independently of God. Everything they do, whether morally good or bad, is in the flesh.
You are not in the flesh; you are in Christ. You are no longer independent of God; you have declared your dependence upon Him by placing faith in Christ. But even though you are not in the flesh, you may still choose to walk according to the flesh (Romans 8:12, 13). You may still act independently of God by responding to the mind-set, patterns and habits ingrained in you by the world you lived in. Paul rebuked the immature Christians as "fleshly" because of their expressions of jealousy, strife, division and misplaced identity (1 Corinthians 3:1-3).
Paul listed the evidences of fleshly living in Galatians 5:19-21. Unbelievers can't help but live according to the flesh because they are totally in the flesh. But your old skipper is gone. You are no longer in the flesh and you no longer need to live according to its desires.
Getting rid of the old self was God's responsibility, but rendering the flesh and its deeds inoperative is our responsibility (Romans 8:12). God has changed your nature, but it's your responsibility to change your behavior by "putting to death the deeds of the body" (Romans 8:13). You will gain victory over the flesh by learning to condition your behavior after your new skipper, your new self which is infused with the nature of
Christ, and learning to transform your old pattern for thinking and responding to your sin-trained flesh by renewing your mind in the Spirit. (Romans 12:2).
Lord, knowing that I am no longer controlled by sin is such a liberating concept. I can walk today in freedom from my old self, the world system, and the devil. Praise Your name!
...Neil Anderson
ABBA - 3/24/04
"SATAN'S THREEFOLD TEMPTATION"
"For all that is in the world, the lust of the flesh and the lust of the eyes and the boastful pride of life, is not from the Father, but is from the world." (1 John 2:16).
You will be better prepared to resist temptation in your life when you realize that, according to the Scriptures, there are only three channels through which Satan will entice you to act independently of God. They are summarized in John's instructions to believers concerning our relationship to this world: "Do not love the world, nor the things in the world. If anyone loves the world, the love of the Father is not in him. For all that is in the world, the lust of the flesh and the lust of the eyes and the boastful pride of life, is not from the Father, but is from the world. And the world is passing away, and also its lusts; but the one who does the will of God abides forever" (1 John 2:15-17).
The three channels of temptation are the lust of the flesh, the lust of the eyes, and the pride of life. The lust of the flesh preys on our physical appetites and their gratifications in this world. The lust of the eyes appeals to self-interest and tests the Word of God. The pride of life stresses self-promotion and self-exaltation. Satan confronted both the first Adam and the last Adam through each of these three channels of temptation.
Notice how Satan used precisely those three channels to deceive Eve: "When the woman saw that the tree was good for food [lust of the flesh], and that it was a delight to the eyes [lust of the eyes], and that the tree was desirable to make one wise [pride of life], she took from its fruit and ate" (Genesis 3:6).
The first Adam failed miserably and we still suffer the results of his failure. But the last Adam--Jesus Christ--met Satan's threefold temptation head-on and succeeded triumphantly. In Him we have the resources and the power to conquer every temptation Satan throws at us. "You are of God, little children, and have overcome them, because He who is in you is greater than he who is in the world." (1 John 4:4)
...Neil Anderson
ABBA - 3/24/04
A Visit With Ol' Man Lister:
"Weeds"
Ol' man Lister and I were using up the shade on his front porch the other day, when Barry Green walked up for a visit. Lister asked him, "What did you learn in college this semester, Barry?"
"Well, sir," Barry bragged, "I just completed a college course on child-rearing, and I am now fully prepared for parenthood. I believe children should be set free from the tyranny of parental dictatorship. They should be allowed to do things their way and make their own decisions without parental intrusion. That is the only way they will ever reach their potential."
Ol' man Lister put his arm around Barry's shoulder and led him around back to his garden. "What do you think of my garden, Barry?"
Barry said, "Mr. Lister, that's nothing but a bunch of weeds!"
Lister nodded and said, "It used to be filled with vegetables, but this year I decided to let it grow without my intrusion. You're looking at the result. Children, like gardens, need tending."
You know...I reckon he's right.
...Steve McLean
Lockney, Texas