September/October Issue 2008 - Volume 27 Number 5
Make Your Calling and Election Sure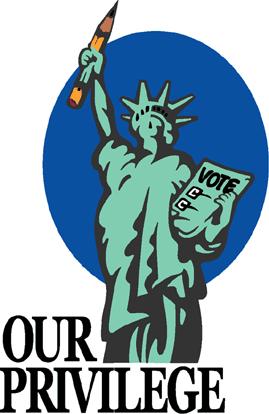 Make Your Calling and Election Sure
"Therefore, brethren, be even more diligent to make your call and election sure, for if you do these things you will never stumble."

2 Peter 1:10
There are two things that reminded me of this Scripture. First, I have just attended the lectureship at Carman, Manitoba, and this statement was used as their theme. Yesterday I attended a political rally for a short time.
There are three men running in this constituency. I am told it is going to be a close race. All three candidates are working hard to make their election sure, but two of them will not succeed. However, in the election that Peter talks about in 2 Peter 1:10, all can be elected and all can retain their seat for time and for eternity. God, by Jesus Christ, is running the election and if we follow instructions we cannot fail.
No one deserves to be elected. This election makes us a child of God for time and for eternity. All have sinned and fall short of the glory of God (Romans 3:23). Salvation is by grace (Titus 2:11). Grace brings us to the knowledge of God and of Jesus our Lord (2 Peter 1:2). His divine power has granted unto us all things that pertain unto life and godliness. So it is of grace, for we have not earned it. We have not found it by our human wisdom but God has granted it unto us. How does he grant these things? Through the knowledge of him who called us by his own glory and virtue (2 Peter 1:3).
When a man seeks election to a human government, he tells people what he will do for them if he is elected. God tells us what He will do for us when we are elected and if we do not disqualify our position of trust: "Whereby he hath granted unto us his precious and exceeding great promises that through these ye may become partakers of the divine nature, having escaped from the corruption that is in the world by lust" (2 Peter 1:4). So if the great promises of God are to be ours, we must escape from the corruption that is in the world that comes by lust.
God tells us how we are to escape the corruption of the world. We are to add to our faith virtue. Without faith it is impossible to please God (Hebrews 11:6). However, the devils believe and tremble (James 2:19). Faith, to be effective, must add virtue. It must enable us to escape from the corruption that is in the world by lust. Faith, in order to be effective, must cleanse the heart (Acts 15:9). Faith, to be effective, must cause us to overcome the world (1 John 5:4). If we are living an ungodly life, then our faith is not functioning properly. Our election is not sure.
To our virtue we are to add knowledge. In connection with this lesson, the word "knowledge" is used five times. So knowledge must be first. We are elected, and then we must make our calling and election sure (2 Peter 1:10). Jeremiah told us: "O Jehovah, I know that the way of man is not in himself; it is not in man that walketh to direct his steps" (Jeremiah 10:23). What is faith? We learn what it is by divine knowledge. What is virtue? We learn what it is by divine knowledge. Too many people decide what is virtuous by the whims of modern society rather than by the Word of God.
Knowledge leads us to self control. By the grace of God we can escape the corruptions that are in the world by lust. We no longer are hot and cold. For we add to self control, patience. The marginal rendering says "steadfastness." The promise of God is to Him who overcomes (Revelation 2:10).
We are no longer tossed to and fro by every wind of doctrine. We are no longer lured by the lusts of the flesh for now we are able to add to our steadfastness, godliness. Knowledge has led us to think like God, and then we act as God would have us act. The world will not understand our actions but God does.
We are drawing closer to the point at which we are making our calling and election sure. Now we add "love of the brethren." Surely this is one of the great blessings that comes to us. It can only be ours when we give it. There is an axiom that says, "What I give I keep and what I keep I lose." This is so true of brotherly love. Who is loved the most? The one who loves the most. Then we add to brotherly love, the highest form of love. This is the love that is exemplified in 'God is love" (1 John 4:16).
This is the love that so loved the world that God gave (John 3:16). This love may be hard to divine but we can only acquire it by the knowledge of God.
We are not only to have these eight things but in these we must abound. When we have them then we are not idle or unfruitful. Again the word knowledge is used. By these virtues we abound in the knowledge of our Lord and Savior Jesus Christ (2 Peter 1:8).
"For he that lacketh these things is blind, seeing only what is near, having forgotten the cleansing from his old sin" (2 Peter 1:9). He has failed all the way down the line. His faith is not right for we have already learned that by faith we overcome the world (1 John 5:4). Unless our faith is right then none of the other virtues can follow.
Men will work long hours; they will do everything they can in order to be elected. That election is for a few years but our election is for eternity. But we can be disqualified. "Wherefore, brethren, give the more diligence to make your calling and election sure: for if ye do these things, ye shall never stumble" (2 Peter 1:10). The King James Version says that we will not fall.
"For thus (by zealously adding these eight virtues), shall be richly supplied unto you the entrance into the eternal kingdom of our Lord and Savior Jesus Christ" (2 Peter 1:11).
My wife and I were invited to the political rally. I was busy. We went late. We could not get a seat. We did not stay very long for we had to stand up. I could not but think that if we had the same zeal to be elected and to make sure we were not disqualified, how we would act.
Some months ago, I was invited to attend another political meeting. There were plenty of seats. There was little enthusiasm. You see they were not seeking election in that meeting. When I attended the meeting at the church last night, we acted more like the second group than the first one. Why?
J. C. Bailey, 1979, Weyburn, Saskatchewan
http://www.oldpaths.com
(Ed. Note: I met J. C. Bailey years ago in Edmond, Oklahoma at a meeting on missions in India. He was an honorable and well respected man and very humble. J.C. was born in Canada on September 13, 1903 and preached and lived mainly in Canada. However, when he was a young man he made one of his first preaching ventures into Montana and North Dakota in the United States. In April 1963, at the age of 60 when many are thinking of retiring, J. C. made his first trip to India. This work became a passion for him and he traveled there over 20 times. His last trip to India was made in 1990 when J. C. was 87. He died on July 2, 2001 in Canada.)
Clothed By Him
Our Lord never hesitated to condemn the scribes and Pharisees for acting as religious counterfeits (Read Matt. 23). Christ used a unique word to describe these counterfeits; they were "hypocrites." The word "hypocrite" is transliterated from the Greek word "hypokrites." It means "an actor, a stage-player, or a pretender" (Thayer's Lexicon). When the curtain was open and men's eyes were watching, these scribes and Pharisees were quick to act out their religious role. But when the curtain fell, the religious role-playing ceased; it was all for show (Matt. 6:2, 5, 16). Unlike the hypocrite who plays the part of his half-hearted religious character, the Christian plays the part of a genuine character. That character is Christ! To play the part of Christ, we must first put on the costume of our character. This costume consists of what Paul referred to as, in several places, the "new man."
Concerning this new man, Colossians 3:1 states, "If ye then be risen with Christ, seek those things which are above." Being "risen with Christ" alludes to our baptism into Christ, at which point we died with Christ (Rom. 6:6, 8), were buried with Christ (Rom. 6:4), and were raised with Christ (Rom. 6:5). If we have been raised with Christ in this manner, we have a unique opportunity and obligation to "walk in newness of life" (Rom. 6:4). Rather than setting our minds on earthly and temporal things, we should set our affections on heavenly things, which are eternal (Col. 3:1-2). Having received pardon, we should mortify, or put to death, our old sinful ways of fornication, uncleanness, evil desires, and covetousness (Col. 3:5). Rather than surrendering to "anger, wrath, malice, blasphemy, filthy communication" and the like, we should "put off the old man with his deeds" (Col. 3:8-9).
Putting off the old man is an interesting concept. Paul implies that we have power in Christ Jesus over this old man, power to take control and do away with the old man! But if we put off the old man, what man shall we put on in his place? In Galatians 3:27 Paul answers the question with these words: "For as many of you as have been baptized into Christ have put on Christ." When we were baptized into Christ, we took the first step in the direction of clothing ourselves with a new man which is created in the image of Christ (Col. 3:10). This new man will not grow and prosper if we linger with the old man. As the old man is put off and mortified, the new man is able to mature. This new man is renewed as we gain a better understanding about the image, or model, from which this new man is created (Col. 3:10), that being Jesus Christ. As we gain knowledge of Christ, we are able to grow into a new man that looks more like Christ with every passing day.
Since we have been raised with Christ to live a new life, we have become part of something special. Peter said that we are a "chosen generation" and a "peculiar people" (special people). Why? Because God "hath called us out of darkness into his marvelous light" (I Pet. 2:9). We are called, or willingly delivered, out of darkness unto salvation by the gospel, the saving power of God (See II Thess.2:13-14 and Rom. 1:16). Because we are special and holy, we should diligently strive to cloth ourselves with the new man whose heart is full of tender mercies and whose mind is humble. Peter said that we should give all diligence to add these virtues to our beginning faith (II Pet. 1:5). The new man is kind, meek, and patient (Col. 3:12). Peter encourages us to add temperance and patience to our ever-growing faith (II Pet. 1:6). Because Christ was forgiving (Luke 23:34), the new man, created in the image of Christ, must be forgiving as well (Col. 3:13). Forgiveness is essential when adding brotherly kindness to our faith (II Pet. 1:7 and Matt.18:21-22). Finally, and most importantly, to put on the new man is to "put on charity," or love (Col. 3:14). According to Peter the process of spiritual growth culminates when charity, or love, is finally added to our faith (II Pet. 1:7).
I've often wondered about love being listed as the capstone of our spiritual growth. Was not love required from the very beginning of our faith? The world, without Christ, can rarely comprehend the meaning of true love. The world's idea of love can often be traced back to some root of sensuality. The Christian love is not rooted in sensuality, but spirituality. Perhaps a new-born Christian, fresh in his or her faith, has a few things to learn about the meaning of true love. That true love, just like the new man, "vaunteth not itself, is not puffed up," but is humble (I Cor. 13:4). That true love, just like the new man, "suffereth long, and is kind" (I Cor. 13:4). That true love, just like the new man, "thinketh no evil" (keeps no accounts of evil), but is forgiving (I Cor. 13:5). True love is the seal of completeness, the "the bond of perfection" (Col. 3:14). Having done all these things, putting on the new man in his totality, we can live in peace with our Heavenly Father (Col. 3:15).
Having clothed ourselves with the costume of Christ, we must then learn the lines of our character. Paul said, "Let the word of Christ dwell in you richly in all wisdom…" (Col. 3:16). These words are for "teaching and admonishing one another" (Col. 3:16). By clothing ourselves with the costume of Christ, a costume which we need never put off, and learning the lines of Christ, we don't simply act out Christ. We live out Christ. So that whatsoever we find ourselves doing or saying, we do and say all things in the name of the Lord Jesus, giving the thanks, the praise, and the glory to God through Him (Col. 3:17).
James Luedecke
Grove, Oklahoma
Stein's Actual Confessions and the Coda
"O Timothy! Guard what was committed to your trust, avoiding the profane and idle babblings and contradictions of what is falsely called knowledge---by professing it some have strayed concerning the faith. Grace be with you. Amen." 1 Timothy 6:20-21
There is an email that has been circulating through cyber space for the past three years. I don't know how many times I have received it, but I have saved two versions of it. I decided to go to snopes.com to see what these internet detectives have discovered about these emails. I found that a portion of the email is actually the confessions that Ben Stein made on CBS Sunday Morning on December 18, 2005. The coda was added sometime in mid-2006 and this version has been circulating since then. Ben Stein is a lawyer by training and also served as a speechwriter for President Richard M. Nixon. His most recent exploit is the movie Expelled: No Intelligence Allowed. According to the expelled web site this movie is about the freedom to legitimately challenge "Big Science's" orthodoxy…without persecution.
The section between the asterisks below is the actual confessions Ben Stein made on CBS Sunday Morning entitled, "Confessions for the Holidays." The section after the last set of asterisks explains what snopes says about the coda and contains the coda. Here is the preface in the version of the email that I received followed by Stein's confessions and then the coda:
If they know of him at all, many folks think Ben Stein is just a quirky actor/comedian who talks in a monotone. He's also a very intelligent attorney who knows how to put ideas and words together in such a way as to sway juries and make people think clearly.
***********
Herewith at this happy time of year, a few confessions from my beating heart: I have no freaking clue who Nick and Jessica are. I see them on the cover of People and Us constantly when I am buying my dog biscuits and kitty litter. I often ask the checkers at the grocery stores. They never know who Nick and Jessica are either. Who are they? Will it change my life if I know who they are and why they have broken up? Why are they so important?
I don't know who Lindsay Lohan is either, and I do not care at all about Tom Cruise's wife.
Am I going to be called before a Senate committee and asked if I am a subversive? Maybe, but I just have no clue who Nick and Jessica are.
If this is what it means to be no longer young. It's not so bad.
Next confession:
I am a Jew, and every single one of my ancestors was Jewish. And it does not bother me even a little bit when people call those beautiful lit up, bejeweled trees Christmas trees. I don't feel threatened. I don't feel discriminated against. That's what they are: Christmas trees.
It doesn't bother me a bit when people say, "Merry Christmas" to me. I don't think they are slighting me or getting ready to put me in a ghetto. In fact, I kind of like it. It shows that we are all brothers and sisters celebrating this happy time of year. It doesn't bother me at all that there is a manger scene on display at a key intersection near my beach house in Malibu . If people want a creche, it's just as fine with me as is the Menorah a few hundred yards away.
I don't like getting pushed around for being a Jew, and I don't think Christians like getting pushed around for being Christians. I think people who believe in God are sick and tired of getting pushed around, period. I have no idea where the concept came from that America is an explicitly atheist country. I can't find it in the Constitution, and I don't like it being shoved down my throat.
Or maybe I can put it another way: where did the idea come from that we should worship Nick and Jessica and we aren't allowed to worship God as we understand Him?
I guess that's a sign that I'm getting old, too.
But there are a lot of us who are wondering where Nick and Jessica came from and where the America we knew went to.
***********
According to snopes.com, in mid-2006 someone added the following coda, not written by Ben Stein, to this piece. It combines older items about a TV appearance that Anne Graham Lotz, the daughter of evangelist Billy Graham, made just after the September 11 terrorist attacks and the false claim that the son of child care expert Dr. Benjamin Spock committed suicide:
In light of the many jokes we send to one another for a laugh, this is a little different: This is not intended to be a joke; it's not funny, it's intended to get you thinking.
Billy Graham's daughter was interviewed on the Early Show and Jane Clayson asked her "How could God let something like this Happen?" (regarding Katrina)
Anne Graham gave an extremely profound and insightful response. She said, "I believe God is deeply saddened by this, just as we are, but for years we've been telling God to get out of our schools, to get out of our government and to get out of our lives.
And being the gentleman He is, I believe He has calmly backed out. How can we expect God to give us His blessing and His protection if we demand He leave us alone?"
In light of recent events...terrorists attack, school shootings, etc. I think it started when Madeleine Murray O'Hare (she was murdered, her body found recently) complained she didn't want prayer in our schools, and we said OK.
Then someone said you better not read the Bible in school. The Bible says thou shalt not kill, thou shalt not steal, and love your neighbor as yourself. And we said OK.
Then Dr. Benjamin Spock said we shouldn't spank our children when they misbehave because their little personalities would be warped and we might damage their self-esteem (Dr. Spock's son committed suicide). We said an expert should know what he's talking about and we said OK.
Now we're asking ourselves why our children have no conscience, why they don't know right from wrong, and why it doesn't bother them to kill strangers, their classmates, and themselves.
Probably, if we think about it long and hard enough, we can figure it out. I think it has a great deal to do with "WE REAP WHAT WE SOW."
Funny how simple it is for people to trash God and then wonder why the world's going to hell.
Funny how we believe what the newspapers say, but question what the Bible says.
Funny how you can send 'jokes' through e-mail and they spread like wildfire but when you start sending messages regarding the Lord, people think twice about sharing.
Funny how lewd, crude, vulgar and obscene articles pass freely through cyberspace, but public discussion of God is suppressed in the school and workplace.
Are you laughing?
Funny how when you forward this message, you will not send it to many on your address list because you're not sure what they believe, or what they will think of you for sending it.
Funny how we can be more worried about what other people think of us than what God thinks of us.
…Email received in October 2006